Luke Ablett
Luke's father, Kevin, played 38 AFL games, mostly with Hawthorn
The 182cm, 84kg wing was the Sydney Swans' first draft pick - at No24 - in October 2000.
Although Gary found time to congratulate his nephew after the draft, the pair have not spoken often.
"When I was growing up, he gave me little tips on little things in footy that helped him out during the year but not that much," Luke said. "We try not to talk about footy because it's pretty full-on."
Luke played for Gippsland Power and represented Victoria Country in the AFL under-18 national championships this year.
He's signed a two-year contract with the Swans.
Ryan Ablett

Currently at Port Melbourne and Sydney with cousin Luke.
Son of Geoff Ablett
Kevin Ablett
Played 22 games at Hawthorn from 1978-'80.
Geoff Ablett
Older brother of Gary, Geoffs vital stats were as follows:
Born: May 5, 1955
Height: 180cm.
Weight: 86.5kg.
Recruited from Drouin in 1973, Geoff started with Hawtirn as a long-kicking centreman, but played his best football on the wing, drifting into the forward-line where his long goals on the run were a highlight.
Geoff won the VFL's "Fastest Man In Boots" competition for three years in a row in the early 1980's.
A most talented player, Geoff played on the wing in two Hawthorn premierships, 1976 and 1978.
Geoff was an interstate player, in 1980 playing for the Victorian No. 2 side against Queensland.
Injuries affected his form in 1981 and he missed five matches, but he was still a front-line player.
Michael Tuck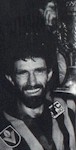 Brother-in-law of Gary Snr and uncle to Gary Jnr.
Played 427 games at Hawthorn.
Premiership Captain on several occasions.